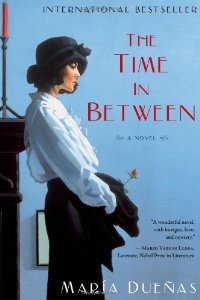 I've been a bit under the weather the past couple of weeks, so that combined with the longer nights gave me the perfect excuse to curl up on the sofa and bury myself in a great adventure novel.
Ever since this summer when I held a big tapas party on the lawn and we all stayed up 'til the wee hours drinking Spanish wine in the moonlight and listening to Paco de Lucia, I've been on a big Spanish kick—food, film, music, wine, and so on.
Spain, I'm told by people who know these things, is the new Tuscany.
I loved For Whom the Bell Tolls and have a soft spot in my heart for those brave folks in the Abraham Lincoln Brigade, the ones who tried to stop Hitler before he could destroy Europe. And who doesn't love Casablanca?
So when Goodreads e-mailed me about this hot, new, word-of-mouth novel by Maria Duenas called The Time In Between, which is set in Spain and Morocco during the Spanish Civil War, I had to read it.
BTW if you are a book junkie, and you don't live anywhere near Vroman's, or Book Passage, Powells or Elliot Bay Books, get on the Goodreads site. Since I live up here in the sticks far from any great bookstore, Goodreads meets a lot of my bookstore-browsing needs.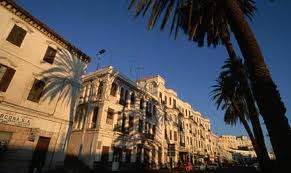 The Time In Between is 600 fabulous pages long. Perfect for winter. It tells the story of Sira, a young Spanish seamstress forced to live by her wits when a passionate love affair and the Spanish Civil War strand her in glamorous, dangerous Tangier.
The rest you'll just have to find out on your own.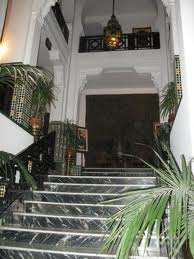 It's beautifully written and so sensual—you can feel the hot sun beating against the closed shutters, smell the orange bossoms at night and taste the ice-cold champagne at the El Minzah Bar (see the stairway on the left), which was the model for Rick's Cafe in the movie Casablanca.
Here's what the Nobel Laureate Mario Vargas Llosa had to say about The Time In Between: "A wonderful novel, in the good, old tradition, with intrigue, love, mystery and tender, audacious and well-drawn characters."
Who could want more?
And speaking of all things Spanish, I'm including my recipe for my go-to date night dish—Gambas al Ajillo.
Many years ago when we needed such a thing, Dave and I realized the futility of trying to get a babysitter in Berkeley on a Saturday night, so we just lit candles, put on music, made a fancy but easy dinner and pretended we were dining out. The perfect dish for such an occasion? My friend Lynda's Gambas al Ajillo. Plus, the dish goes well with Champagne, or Spanish Cava, as the case may be. A nice Albarino is good, too, but hey—it's date night. Splurge!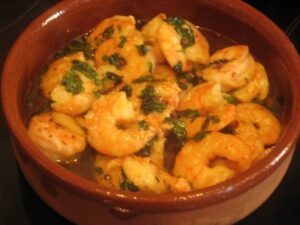 Gambas al Ajillo
5 TBS. Olive oil ( I use a spicy, Spanish olive oil for this, not an Italian)
1 tsp. hot pepper flakes
1 pound medium shrimp, peeled
4 cloves of garlic, very thinly sliced. (Sometimes I just put the garlic through a press, which results in a stronger garlic flavor.)
2 TBS. Italian parsley, chopped
Sea salt or kosher salt optional. ( Taste and see.)
1. Swirl olive oil in a pan until hot but not smoking.
2. Add hot pepper flakes and shrimp and cook a matter of seconds, just until shrimp are pink.
3. Add garlic and cook for a few seconds to a minute until garlic is golden. Do not burn.
5. Toss in the parsley
Pour shrimp into a warm cazuela, taste for salt, and add if you want ( Be careful. Not too salty) Serve with plenty of good bread to sop up the sauce.
The whole menu is something like this. Champagne, olives and Marcona almonds to start. Cook the shrimp while you sip champagne. Serve the gambas and bread, and for desert have seasonal fruit and a young manchego cheese.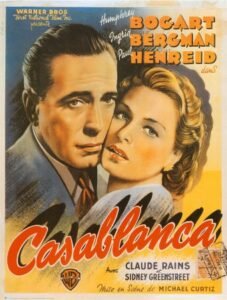 A perfect meal for when they make The Time In Between into a movie! Then again, We'll always have . . . Casablanca, as another great date night option.