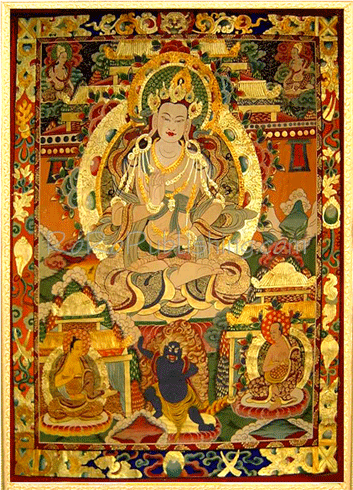 They say, those good folks who are studying the science of happiness, that you can actually increase your own happiness by taking a few simple steps.
In brief, here they are.
Savor moments of each day. Don't emphasize the importance of material things. Take the initiative. Have a goal. Value friendships, family and community. Exercise. Eat right . . .
And the one I'm thinking about today —
Don't compare yourself to others.
As it is that time of year when we traditionally take stock, I like others, started listing the ways I did not live up to all of last year's resolutions.
Did I mediate each and every day. Well . . . not exactly. And that dream notebook that was so interesting . . . I let it languish. As far as doing all the chapters of The Artist's Way . . . uh. You get the picture.
And then I thought, "Jane, Jane, Jane. If the point is to increase your own capacity for happiness, and maybe bring a little of that joy into other people's lives, you are not headed in the right direction. Time to meditate on Quan Yin, the Goddess of Compassion and Mercy. Or, as we say on the ranch, "Let's just back this truck up!"
Better to focus on the things I did do. Much more inspiring.
I have a friend who tacks images that inspire her writing up on her office bulletin board. Once, at a low point in her spirits, she covered the board with photographs of all the things she'd achieved in her life — college, wedding, birth of kids, big garden, remodeled kitchen, recovering from cancer treatments, Bay to Breakers race, a special anniversary, pets, Thanksgiving dinners.
Nothing of historical importance mind you, but when she stepped back and looked, what she saw was a life well-lived, rich in family, friends and creativity. Do you really need any more?
Before we moved out here, when I was waffling and scared to buy the property, another friend said, "Are you nuts? Of course, you should do this. Ever since I've know you, you've wanted two things: to write and to live in the country. You can do this."
So in honor of my friend's inspiring idea, these are some things that are going on MY bulletin board just to remind me how far I've come.
I've gone from this on the left (below) . . . To this on the right (below).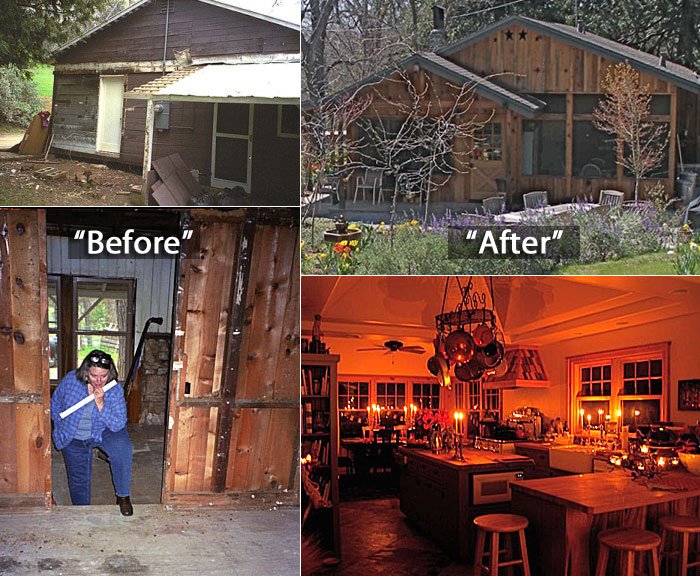 I've gone from being scared and wondering if I'd lost my mind to being certain that I hadn't.

And I've gone from this — a book in a box — to a podcast. So this years resolution: From a book in a box, to a podcast on the computer, to a novel on one of these little gizmos, that's the resolution.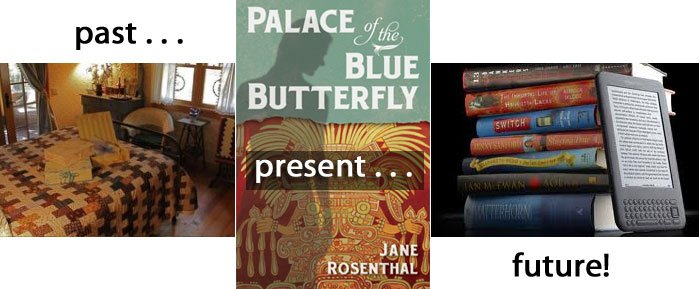 Now, back to meditating every day, keeping a journal . . .
I have a whole other year.