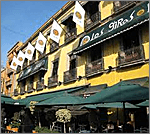 And just to nudge your imagination a bit more, here's the restaurant Los Girasoles on the left where she's dining.
BTW — Fabulous food. Great margaritas.
Also, I've got a little announcement. Any of you within range of KVRP Public Radio (FM 89) can listen to me read El Tropical, an excerpt from my novel Bird of Paradise. It airs February 8 at 7 pm. Hope you'll tune in . . .