. . . Birthday.
I cut this poem by Carolyn Forche out of the New Yorker (which appears once a week in our little rural mailbox under the catalpa trees) and keep it by my desk.
THE LIGHTKEEPER
A night without ships. Foghorns called into walled cloud, and you
still alive, drawn to the light as if it were a fire kept by monks,
darkness once crusted with stars, but now death-dark as you sail inward.
Through wild gorse and sea wrack, through heather and torn wool
you ran, pulling me by the hand, so I might see this for once in my life:
the spin and spin of light, the whirring of it, light in search of the lost,
there since the era of fire, era of candles, and hollow-wick lamps,
whale oil and solid wick, colza and lard, kerosene and carbide,
the signal fires lighted on this perilous coast in the Tower of Hook.
You say to me stay awake, be like the lensmaker who died with his
lungs full of glass, be the yew in blossom when the bees swarm, be
their amber cathedral and even the ghosts of Cistercians will be kind to you.
In a certain light as after rain, in pearled clouds or the water beyond,
seen or sensed water, sea or lake, you would stop still and gaze out
for a long time. Also when fireflies opened and closed in the pines,
and a star appeared, our only heaven. You taught me to live like this.
That after death it would be as it was before we were born. Nothing
to be afraid. Nothing but happiness as unbearable as the dread
from which it comes. Go toward the light always, be without ships.
Carolyn Forche
Go toward the light always I tell myself.
I met Carolyn Forche a couple of times many years ago—once at a workshop in Washington and another time I interviewed her for Public Radio.
At that workshop late one night, word traveled that Carolyn Forche had arrived. Since she had won the Yale Series of Younger Poets Award a few years before, everyone was excited to meet her, me included. What I envisioned was a week of discussing image and form, lyric and language.
That did not happen.
Forche had just returned form El Salvador and was overwhelmed by the horror of the civil war, the atrocities she'd seen. Conversations quickly turned to her experiences. How do poets respond to their times? we asked. She said it was incumbent upon writers to bear witness.
I was working for Public Radio (my way of bearing witness, I suppose) by the time her collection The Country Between Us came out. Her difficulty, in spite of her fame, in finding a publisher for this volume was a part of that interview. It seemed Forche was being censored, and in fact, the author Margaret Atwood finally used her influence to get the volume published. The book later won the Lamont Prize and Forche's poem The Colonel is as important today as it was then.
Flash forward thirty years.
I was pouring over Saveur Magazine, trying to come up with some ideas for Dave's birthday dinner when I read an article about a meal in Lebanon.
Dave's family lived in Lebanon for a year, so the title caught my eye. I was moved by the idea of friends told to gather "whether there was a cease-fire or not", their way guided by votive candles, lighting the blacked-out street and stairwell.
I think of my friends sometimes as those votive candles, lights that guide me through dark moments, and the article made me want to give them the same experience as the author—who turned out to be Carolyn Forche.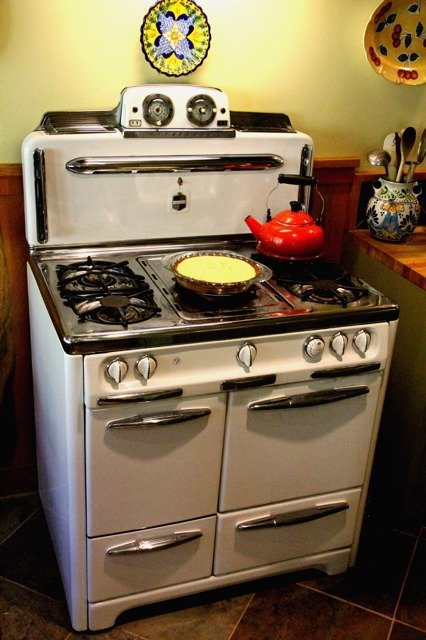 In the clear light of day, however, I realized I would need a staff to prepare such a feast. With twenty-nine trees to plant and two huge boxes of bulbs from White Flower Farm sitting on the porch waiting to be planted, I had to settle for a more pedestrian stew.
Forche's meal ended, she said, with "something that tasted like an orange cloud."
Here's my version for my friends of that citrusy experience.
Jane's Lime Cloud Pie
1 generous cup of fresh lime juice
1 heaping teaspoon lime zest
2 cans Sweetened Condensed milk
2 beaten eggs
1 pre-baked Graham Cracker pie crust. Any recipe will do. Just don't use the already made version that's been sitting on the shelf who-knows-how long-with-a-ton-of-preservatives.
Beat eggs. Add Sweetened Condensed Milk, lime zest, lime juice. Stir until smooth. Pour into pie crust. Bake 18 minutes. Let cool.
At this point, you can cover it with sweetened whipped cream ( about a cup) or sweetened sour cream. You decide.
Refrigerate for 3 hours before serving.
P.S. If you want another version, use lemon instead.
P.P.S The stove is a vintage Wedgewood from Reliance Appliance in Berkeley Ca.