Cowgirl Heaven must be the rooftop bar at La Fonda in Santa Fe right after the summer monsoons have cleared the air. Anyway, that's where Dave and I headed for our anniversary at the end of July. Awww . . .
I love the drive from the ranch to my daughter's doorstep on a mesa outside of Santa Fe, and I can never decide what is my favorite part of the trip.
Sometimes, I think it's the very beginning as we drive down Dry Creek road with the view of the magestic Sierras and the whole vacation is before me. We twist and turn down the narrow, almost one lane road past the beautiful thoroughbreds at the Farleigh Ranch until the road levels off amid the huge sycamores by the creek.
After we cross the Kaweah River at Lemon Cove, we head through the citrus groves, past high walls of oleander until we reach Bakersfield.
Actually on these trips, I don't even mind Bakersfield so much, knowing what lies ahead. Besides, we stop for pie and coffee and pick up a book on tape for the trip. This time it was The Girl with the Dragon Tattoo.
Then it's up the Tehachapi, and away we go.
We usually cross the blue-green Colorado River just as the sun is setting and hit kingman in time to have a beer and dinner at the Dambar.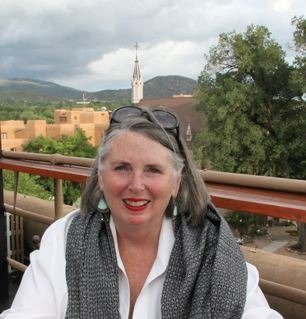 Then again, maybe the next day is my favorite part—climbing the mountain to Flagstaff at 7000 feet high and then straight across the high desert to the stunning cliffs outside of Gallup. My heart always lifts when I see the sign "You are entering New Mexico—Land of Enchantment."
But in the end, I might have to choose that moment when we reach the top of La Bajada hill and I get my first glimpse of Santa Fe, all the adobe buildings turning rose-colored in the setting sun, spread across the valley at the foot of the Sangre de Cristo Moutains.
And here I am at Cowgirl Heaven—on top of La Fonda. I know I'm looking a bit windblown (but happy) in the passing storm, and I'm just waiting for one of La Fonda's famous Silver Coin Margaritas.
Gracias a la vida!
Read Part 2 of this article