Maria Felix. The great actress of the
Golden Age of Mexican Cinema.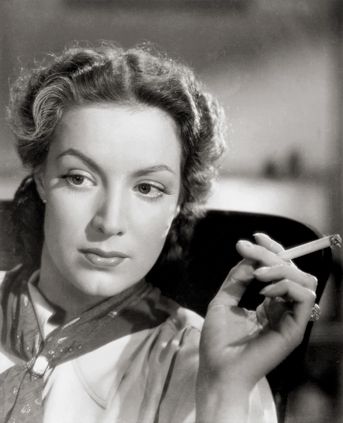 I couldn't resist putting her up for all to see. Notice the cute little bandana around her neck. I'm always lounging around the ranch like that, don't you know — menos el cigarro ( without the cigarette).
I wish.
Of course to come across as the Boss Lady like Maria Felix, I'd need ranch hands. Oops. Forgot about getting a few of those somewhere along the line.
Wait. Dave just reminded me he's the ranch hand.
Anyway, all writers have images they carry around in their heads. Maybe that's why we write — a need to empty the vessel. Maria Felix, Delores del Rio, Katy Jurado — the Mexican screen goddesses of the fifties — are some of mine.
Some writers make collages of their mental images by cutting out photos and pictures from magazines or from their travels and pasting them on a bulletin board; some keep those things in folders and rifle through them from time to time. I should do that, but I don't. They're all in my head. And they're not discreet images either. There's more synesthesia going on — sounds, scents, the way things feel are all blurred together up there.
If you're this far in Palace of the Blue Butterfly, you've met Yarabi Molino — my very own made up screen goddess. And of course, there's the mysterious Vivienne.
Just to set the mood for the next episode, here's a little Youtube of Pedro Vargas singing the famous Agustin Lara Bolero "Mujer". I've written a bit of a translation, but it's so much more beautiful in Spanish. If you want to understand the rest, you'll have to learn Spanish. It will open up a whole world for you, I swear.
Woman, divine woman,
You have the poison that fascinates in your eyes.
Woman of alabaster.
You are the vibration of a passionate sonatina.
You are the perfume of an orange tree in bloom.

And now you're ready for . . .
[wpaudio url="https://www.allaboutjanesranch.com/pods/POBB4.mp3″ text="Episode 4 – click and listen" dl="0″]