. . . not the only life you can lead. (Anna Quindlen).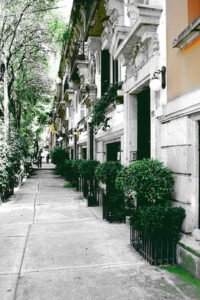 I know this quote means one can change, but I interpret it another way: that I can live more lives than my everyday existence.
I mean, just look at my cows, my pond, the hills around me. Rustic, no? But in a minute, I can slip into my imagination and be walking down Vivienne's street—the one you see at the left— following her on her way home from the gallery. Best of all worlds. Both of them!
After I write this post, I will go up to my cutting garden where I planted my older bulbs and pick an armload of tulips to arrange for the house. I'll stop for a minute to look at the clouds over the mountain ranges, the sun setting over the foothills to the west.
Still, I might be thinking about Vivienne and Lili, imagining one of them at a window like this one on the right, but not quite, because Vivienne's house is a bit more crumbling, its stucco a faded rose color and there are the cracks, the patina of age. And besides, Vivienne's house only exists in my imagination and now, well, in yours.
There are several ways to listen to this story. You can take some time out—each episode runs about 35 minutes— sit by your computer or lie on your sofa, or you can download this onto any mp3 player—an iPhone, an iPod— and listen on your car radio or while you're walking the dog. I preview each episode on my iPad while I fold laundry. How glamorous is that?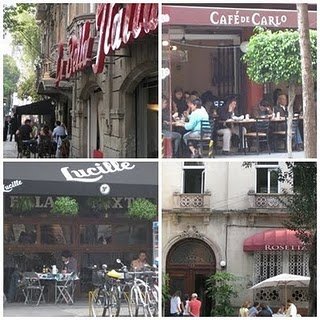 You could even pop into a cafe, stick your earbuds in and click on your iPod. Just imagine you're at one of the elegant little cafes in the Roma district of the DF. See what I mean? The life you have led (or are leading) doesn't have to be . . .
. . . the only life you lead.
But whatever you do, listen to the episodes in sequence! If you haven't listened to Episode One, do not continue. Click on the home page, find Episode One and listen to it first. Palace of the Blue Butterfly is a romantic suspense novel. You wouldn't want to spoil all the romance or the suspense now would you?
[wpaudio url="https://allaboutjanesranch.com/pods/POBB2.mp3″ text="Episode 2 – click and listen" dl="0″]