Ladies, I knew I had to have a girly-girl bathroom up here.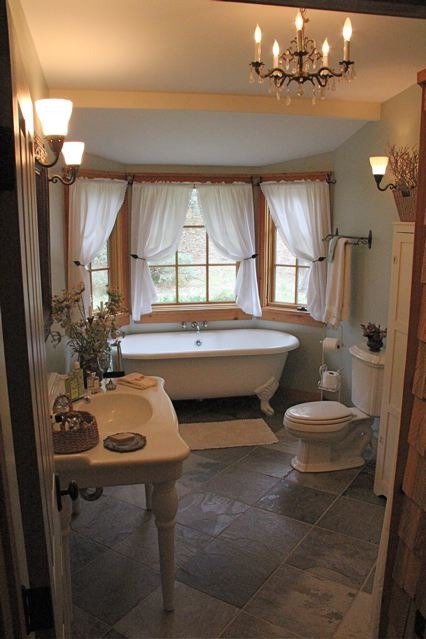 It's great to get in touch with your inner tomboy, but at the end of the day, lavender bubble bath, candlelight and crystal wine glasses are really appreciated.
This beautiful tub was great to sink into after a day like today!
Sweet isn't it?
My morning had gone something like this:
Dave got up at the crack of dawn and headed to the Bay Area to do his astrophysicist thing, leaving the little woman (moi) home alone on the range.
No problema. I had a long list of things to keep me busy.
We'd just had a lovely visit with our friend Carolyn Stephenson (of Mission Café fame and the Santa Fe Community Farm), and I headed to the guesthouse to change the sheets and vacuum. I figured while I was at it, I'd water the cottonwoods we 'd planted up there along the split rail fence.
After I'd turned off the hose, I pushed open the squeaky door to the screen porch and there it was— a two foot
SNAKE
stretched out on the sun-warmed floor, probably snoozing away. Must have gotten in under the door.
All I can say is I'm glad Carolyn had gone. (What do you other country folks do about this kind of thing when your city friends come to visit? And yes, Santa Fe is a city. It's the City Different!)
Anyway, I checked the snake out and pretty much figured it was a gopher snake. It had an oval head, and I couldn't see any rattles. There was no one I could holler to for help, so I just cowgirled-up, grabbed the broom leaning against the wall and started pushing the snake toward the door.
Not happy. Not happy at all.
It coiled and hissed and swayed until it was in front of the door, where it stayed with no intention of going anywhere.
I've dispatched a few rattlers that were on the property just after we moved in, but really, I've never spent so much time closed in a room with a snake before— me staring at him, him at me. I mean, I guess he was staring. His little red, forked tongue was moving back and forth in the air, aiming my direction.
I was stuck. No way I could get around him, and he was within striking distance. I. Stood. Very. Still. What if I'd been wrong about the shape of his head? Maybe he was a little buttontail rattler after all. Remember that poem by Emily Dickinson? A Narrow Fellow?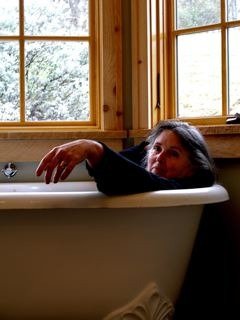 After a while, he unwound— sort of collapsed gracefully— turned and inched ever so slowly out the door and along the side of the building. A gopher snake after all. One of the good ones. Not that rattlesnakes aren't good, too. They are. Still….
We're getting a threshold for that door! Tomorrow! Zero to the bone indeed!
I finished tidying up, rolled an old towel in front of the gap in the door and headed down the hill to our cabin.
I put on Duke Ellington, lit candles, popped open a bottle of Pinot, and ran a really hot bath, bubbles and all.
I love soaking in the tub at twilight after gardening (or in this case, wrangling snakes), looking out the bay windows, imagining all the creatures out there, and me safe and civilized in here.
Dave shot this picture of me and my tub before the cabin was finished. We'd just installed it.
Who knew happiness could be so simple?
(BTW the tub is from Ohmega Salvage and antique sconces are from Ohmega Too in Berkeley CA.)