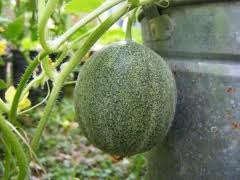 Down the valley about an hour and south another hour or so from the ranch is prime cantaloupe growing country. Consequently, we get wonderful melons.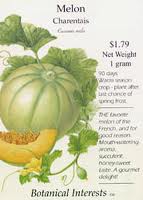 In the hottest months of the summer, I serve chilled cantaloupe, cut into balls and tossed with just the slightest bit of Pernod. You don't really taste the anise flavor, but something about it makes the melon taste even colder. Sometimes, I'll sprinkle them with a little mint or basil chiffonade, maybe some lime. If I want to be carried back to France in my memory, I'll serve them as I had them for an appetizer in a little town in Provence— Eygalieres, near Les Baux. This works best with small melons. All you do is cut the melon in half and fill the well with ruby port. Ah France.
Last year, I tried to grow the fabulous Charentais melon from France and failed. Since I love melon, the listeria outbreak struck terror in my heart. It seems, however, they've tracked the source down. Believe me though, after reading this article, I'm back to the drawing boards with how to raise melons. Trellises will help.
I'm offering you this report on the listeria outbreak from the Grey Lady herself. Read carefully because there will be a quiz at the end of this, people. It's time for No Blog Reader Left Behind.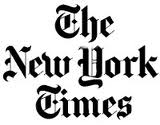 Listeria Outbreak Traced to Cantaloupe Packing Shed
By WILLIAM NEUMAN
Published: October 19, 2011
Federal investigators said on Wednesday that a listeria outbreak that has killed at least 25 people across the country can be traced to bad sanitation at a cantaloupe packing shed used by a Colorado farm. Pooled water and poorly designed equipment allowed the deadly bacteria to spread throughout the facility, the government said.
"You're rolling around cantaloupe on uncleanable equipment, and you're getting it wet and you're not cooling it. It provides the perfect environment for listeria growth and spread," said James Gorny, a senior food safety advisor at the Food and Drug Administration.
The outbreak, the deadliest incident of foodborne illness in the last 25 years, has been traced to Jensen Farms in Holly, Colo., which grew and sold what are known as Rocky Ford cantaloupes, named for an area along the Arkansas River.
Officials said that tests found listeria in numerous areas of the farm's open-air packing house, including a floor drain, a produce dryer and a conveyor belt.
They said that water had pooled on the ground and workers in the shed tracked it around and splashed it on equipment where melons were handled.
The farm had passed a food safety audit by an outside contractor just days before the outbreak began, but the auditor apparently failed to notice the flaws later identified by the F.D.A.
Eric Jensen, a member of the family that runs the farm, said in an e-mail message that the auditor gave the packing plant a score of 96 points out of 100.
F.D.A. officials did not criticize the auditor but they said the agency intended to establish standards for how auditors should be trained and how audits should be conducted.
It was not clear how listeria got into the packing plant to begin with. Listeria is frequently found in soil or manure but tests of the soil on the farm did not turn up the bacteria. Officials said that a dump truck used to take culled melons to a cattle farm was parked near the processing shed and could have carried bacteria to the facility.
Listeria can cause high fever and diarrhea and cases can be especially severe among older people or those with weakened immune systems. Most of the people who died in the outbreak were elderly. A total of 123 people in 26 states have been sickened in the outbreak, including those who died.
Herbert H. Stevens, 84, of Littleton, Colo., fell ill with a high fever on Aug. 24, a couple of weeks after eating a cantaloupe bought at a King Sooper grocery store. He has been in the hospital or a nursing home ever since.
His daughter, Jeni A. Exley, said she worried that he would no longer be able to take care of himself once he finally got to go home. "He's surprised that he survived it, being that there's so many deaths," Ms. Exley said. "We should be able to trust the U.S. food supply but I don't think you can right now."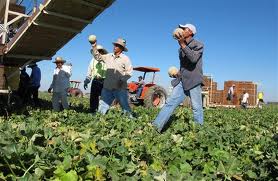 Allrighty then. Notice anything funny? How about the following?
1. "They said that water had pooled on the ground and that workers in the shed tracked it around and splashed it on equipment where melons were handled."
It's the workers fault? Their fault they are working in contaminated, standing water that they take home to their children on their boots and so on? Their fault they are on speed-up so they are racing the conveyer belt, splashing water on it and themselves?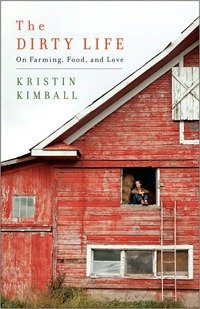 2. "The farm had passed a food safety inspection by an outside contractor just days before the outbreak began, but the auditor failed to recognize some of the flaws identified later by the F.D.A."
Water on the conveyer belt that can't be cleaned? How hard a problem is that to identify?
So much for "government being the problem". Let's hear it for the F.D.A.
This is the kind of thing that fills me with despair. The fact that it happened. The fact that innocent people died. The fact that my fellow human beings are working in terrible conditions. The fact that we won't spend money on food inspection.
The fact that toward the end of the article the damn truck gets blamed!
This time just when my spirits were lowest, I picked up a wonderful memoir about life on an organic farm by Kristin Kimball.
There's a solution to this madness. We could change the way we raise food, change how we employ and compensate the people who grow the food, and we could do this within a generation. There's hope. The Kimball's Essex Farm is proof, and the subtitle to The Dirty Life says it all.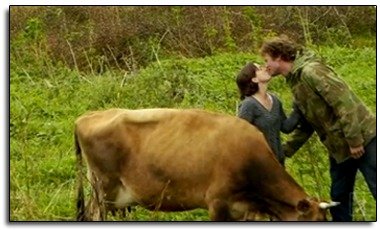 On Farming, Food and Love.
When a young, beautiful woman with a cool flat in Manhattan and a hip job as a freelance writer falls in love with a tall, curly-haired organic farmer, you have to wonder how it will all turn out. Look, she doesn't even garden, and he has no patience for bars in the East Village.
Later when they settle in together in upstate New York on a gone-to-ruin farm, you really, really have to wonder IF and HOW it will all work out, but you root for them the whole way.
Talk about Romance! Talk about Suspense.
I stayed up past midnight reading just to find out if they made it through!
You will,too.