Another wise person I find myself turning to right now is Parker Palmer. In a small book Let Your Life Speak (small book/big ideas), he writes about how the Quaker saying "Let your life speak" has guided him. At first he interpreted the saying to mean he should do REALLY IMPORTANT THINGS. Think Martin Luther King or Gandhi. Only later he came to understand that he should actually listen to his own life, not force it to say what he thought it should say, not force his life to serve his ego. This, Palmer says, is the only way to find a true vocation, and vocation, he points out, comes from the same Latin root as voice.
And that, folks, is what I'm searching for now— a vocation (and a voice) that suits my new life, not my younger life. This one.
Too often, we let the loudest voices around us drown out our own, those voices that tell us to do something important. Behind those many exhortations is an insidious subtext—you aren't important, you don't matter.
There's another thing. In the short term, it can feel easier to listen to those loud voices. That is until you totally burn out and have no idea who you are anymore, until you start to feel like an extra in someone else's movie. Ever been there? I know I have.
Except for the burn out part that I remember so well, it would be easier even now to believe the voices that tell me that it doesn't matter what I do. Organic gardening? Big deal. It's just vegetables. Getting those novels out to the world? Who cares. But when I let my life speak, I hear something different. Not in a shout but a whisper, I hear a voice say, "Stand up. Be a citizen even if you are just a storyteller. Stop hiding."
The only problem is that as soon as my life speaks, I start arguing with it, demanding that it tell me HOW I'm supposed to do things, insisting on success for my endeavors.
Needless to say, my life clams up!
I don't know how to take the next step, I wail. What should I do?
Nothing but silence.
But you know what? Just this morning as I was canning tomatoes, and after I had all but abandoned hope, a quiet inner voice finally piped up and said, "You can figure it out." I swear.
Okay, Jane, I told myself, kind of taking over for that quiet voice. You had no idea what you were getting into when you moved up to the ranch. Didn't have a clue. Had no idea you could can tomatoes, kill rattlesnakes with a hoe, make your own mozzarella cheese or check a 1000 pound Longhorn steer for an eye infection.
Don't you think you can figure this out?
We'll see won't we?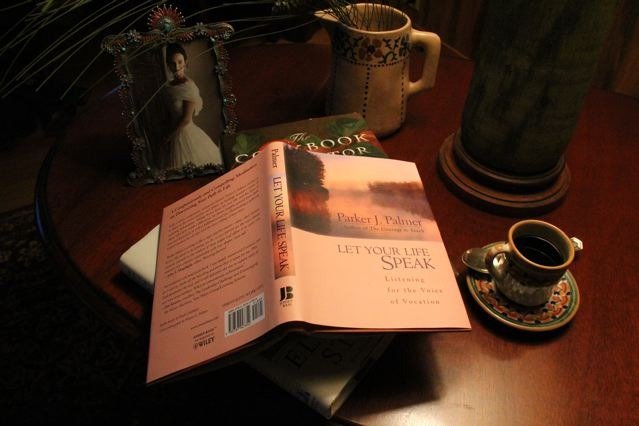 There is a wonderful interview with Parker Palmer on PBS with Bill Moyers. Enjoy.