Perhaps the abundance of eggplants won't survive the first frost of autumn, but the abundance of eggplant recipes I've collected over the summer will.
This beautiful vegetable seems to be a cultural universal. So far, I've cooked Indian, Afghan, Palestinian, Greek, Italian and French eggplant recipes. All that remains are the wonderful Asian versions. Anyway, the possibilities are all over the map, so to speak.
However, for its deliciousness, as well as ease of preparation, Imam Biyaldi is one of my favorites.
Late summer afternoons on the ranch are pretty much devoted to swimming and socializing. With this recipe, I can spend time with guests and, almost magically, put dinner on the table.
I just grab the number of eggplants I need off the vine. Back in the kitchen, I cut off one inch strips of peel every few inches or so, rub the eggplants with with olive oil and kosher salt, cover with tin foil and pop them in a three hundred and fifty degree oven.
Dave makes the drinks—a gin and tonic for me, white wine for Dottie, a martini for Larry—and we relax on the patio under the shade of the big umbrellas, talking over the days event, making plans.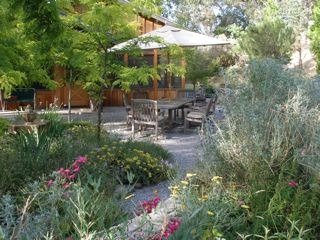 When should we get the nine Blue Oaks from Intermountain Nursery we're going to plant in front of the guest house? Does the feed store have the small, galvanized tin, cattle troughs I want to use as planters? Will the Republicans take the House of Representatives? Please say no! What does Nate Silver of FiveThirtyEight say? Have you noticed the days are getting shorter, the evenings cooler? We go from one subject to the other, stopping to look around at the falling oak leaves, the goldfinches at the fountain. What did you think of the book for the non-fiction book group? It was Justice by the way, by Martin Sandler, and it was fabulous. Before I know it, the timer has gone off and it's back to the kitchen. I make a quick tomato sauce with my own tomatoes and parsley (still a thrill!), and I'm done.
My recipe for Imam Biyaldi comes from Madhur Jaffrey's World Vegetarian. Even if you aren't vegetarian GET THIS BOOK. It may inspire you.
4 small Italian eggplants
olive oil
salt
Preheat oven to 350 degrees
Peel 3-4 strips 1/3 inch wide down each eggplant, so it has a striped appearance,
rub with olive oil and salt, put in a baking dish, cover with foil and bake for an hour.
Sauce for Imam Biyaldi
1/4 cup olive oil
medium yellow onion
2 teaspoons finely chopped garlic
1 1/2 lbs. tomatoes peeled and chopped
1 tsp. kosher salt
Freshly ground black pepper
6 TBS. finely chopped fresh parsley
Add olive oil to a saute pan, heat, add onions and cook until softened. Add garlic, stir so it turns golden but doesn't brown. Add tomatoes, salt and pepper. Turn the heat down and simmer about ten minutes, or until the tomatoes have softened and the sauce has thickened. Add the parsley, stir, and turn off the heat.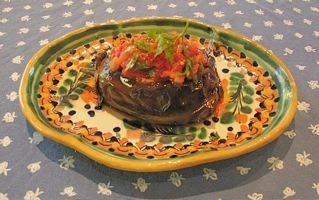 To assemble
Cut a slit in each eggplant that stops about 1/4 inch from the bottom. Push gently on the top and bottom of the eggplant to widen the opening. Add a quarter of the sauce to each eggplant. Serve warm, at room temperature or chilled. ( I serve it warm with rice to which I've added just a bit of saffron for color and that lovely fragrance.) Flat breads are a nice addition, too.
And for a real treat last night, we had our first Charentais melons, served chilled with just a little port in the cavity, an idea I've brought to the ranch from our time in France.
Several years ago, we lived in Paris where Dave was working. On one of our forays to the countryside, we stopped in Eygalieres, a lovely Provencal village. At our auberge, they served the local melon with port.
That I am now grow my own French melons and eat them under my own umbrella on my own pea-gravel covered patio is a great joy. I feel I've come full circle or met some kind of goal I set for myself ( without even knowing it) that distant spring in France. Moments like this for me are one of the great pleasures that come with age and with autumn in the country, this sense of fullness, of completion and, well, of abundance—of eggplants, of memories, of life.