Deborah Madison's Vegetarian Cooking for Everyone . . .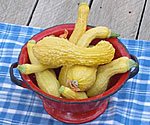 . . . is my bible up here. Right now, the garden is yielding copious amounts of summer squash. What to do with such abundance?
Last night, I found a great recipe in VCFE for zucchini with garlic and lemon, but I switched the squash and used yellow crookneck instead. Why? Well, because I had just come from the garden with this.
I thought about getting all fancy and making . . .
Copy and paste this URL into your WordPress site to embed
Copy and paste this code into your site to embed