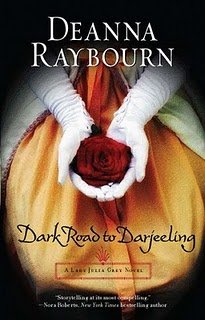 I've just finished recording and editing the fourth episode of Palace of the Blue Butterfly. Two more episodes to go before I can launch! Well, I can launch after I figure out how to store the episodes and then deliver them to you, but I've sent out little SOS flares to PEOPLE WHO KNOW THESE THINGS. So, help is on the way.
Anyway, It's snowing today. Dave has gone up to the Bay Area to work; the cat and I are left on our own, and — fiction addict that I am — I've just downloaded the first two books in Deanna Raybourn's Gothic mystery series, Silent in the Grave and Silent on the Moor. I'm ready to settle down in front of the fire with a cup of tea and get completely lost in another time and place.
I got hooked on Deanna Raybourn's book Dark Road to Darjeeling in Puerto Vallarta. The novel follows the adventures of Lady Julia Grey and her husband, private inquiry agent Nicholas Brisbane, as they try to solve a murder in the tea-growing region of India in, well, in Darjeeling.
For fans of the British mystery, this has it all. A fabulous cast of eccentric ex-pats — a stiff-upper lip, aristocratic spinster devoted to maintaining the standards of the realm, a dotty minister and his bohemian wife, a strange recluse who dabbles in the occult, two English sisters who've suddenly appeared and who have rented a rose-covered cottage — the emblem of all things English — but who may not be as innocent as they appear, men whose inheritances may be in jeopardy, and no shortage of others, all of whom may have cause to commit murder.
And of course, there is the intrepid Lady Julia and her strong-silent type husband Nicholas Brisbane who are at odds about how to solve the crime.
Here, I'll let the book trailer pique your curiosity.
The novel stands on its own as far as I'm concerned, but if you're one of those orderly, linear types, you may want to start at the beginning of the series.
Those novels require a proper cup of tea by the fire — the pot warmed first, and the tea steeped for four minutes, two lumps of sugar and a bit of cream.
But, Dark Road to Darjeeling wants something more exotic.
Here's my recipe for my favorite cup of chai — the perfect accompaniment for the book and even for a snowy day by the fire like today.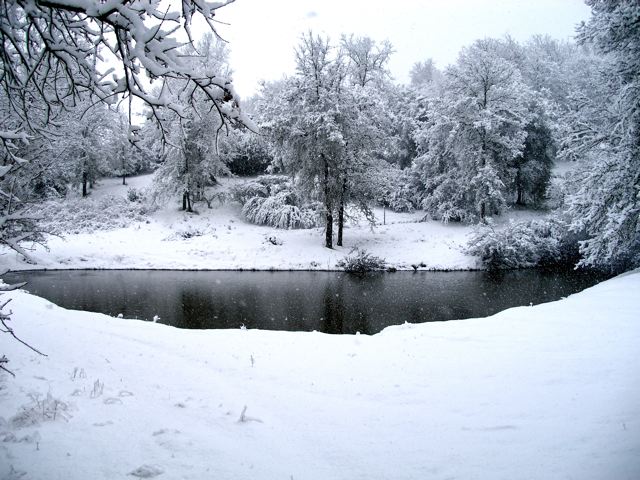 Jane's Ranch — Perfect for a Snowy Day — Chai Tea
(Makes two mugs)
3 cups of milk (I use 2%)
1 knob of fresh ginger peeled (about 1-2 inches)
1 cinnamon stick
4-6 cloves
1 star anise
Half a nutmeg clove
2 cardamom pods
6 black peppercorns
1 vanilla bean split in half
3 teaspoons of Darjeeling tea
Directions: Put milk and spices in a saucepan and bring to almost a boil, stirring constantly. Turn off heat. Add three teaspoons of Darjeeling tea, cover and steep for 4-6 minutes. Pour through a strainer into warmed mugs. Add sugar to taste. (Chai is generally on the sweet side, so I add two teaspoons per serving).
Next week, I'll give you my friend Peggy's recipe for a wonderfully moist coconut pound cake. If your book group is reading a novel with an Indian setting and it's your turn to host, serving your guests my chai tea with Peggy's coconut cake would be a big hit with the gals. (Guys, too!) Stay tuned.