I tried to keep Miss Jekyll's words in mind when I looked out at the barren patch that was to be my patio garden. She'd claimed "There is no spot of ground, however arid, bare or ugly, that cannot be turned into such a state as may give an impression of beauty and delight."
We had just torn down a corrugated metal shed that contained numerous leaking vats of Round-Up. A pad had been cut into what must have once been a gentle sloping hillside to make room for the storage shed, but now, with the shed gone, the hill looked amputated. It simply ended in a dry, dusty flat space. The only signs of life on the ground were columns of ants marching across the dirt. Okay, I thought, Miss Jekyll you have not seen this.
Still, armed with my notebooks, I began to make a list. I would need a rock wall to contain the hillside and, behind it, an abundance of loosely falling perennials which would soften the wall and the abrupt ending of the hill.
Next, I would need a pea gravel patio—pea gravel for drainage. I would need shade and deep green in the summer when the heat is scorching. And all this would have to survive the snow, the summer drought, the late freezes and be as full of native plants as possible.
Dave Woolsey got to work on the wall, painstakingly laying each river rock during one of the hottest summers on record. It was heroic. Spencer Woolsey helped me turn truckloads of topsoil and compost into the pathetic, depleted soil. Janice Woolsey did a little of everything, and by the end of that summer, Dakota Woolsey, Dave and I were ready to plant.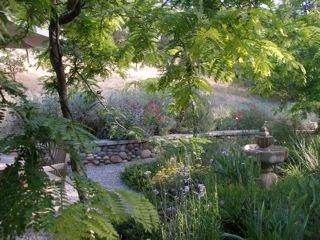 In the area behind the rock wall, I planted yarrow, penstemon, rockrose and bush lupine, butterfly bushes, lavender, guara, blue flax, scabiosa, and salvia clevlandii. For good measure, I threw in some California poppies. The orange, for some reason, seems to pull all the different colors together. Some landscape artist will have to explain why. I'm sort of a seat-of-the-pants type gardener.
In the middle of the patio, I planted sunburst locusts around the fountain. In the spring, that bed is full of tulips and other spring bulbs; in the summer, the drought-tolerant plants take over—creeping manzanita (emerald carpet), more scabiosa , sunrose and lavender.
In another bed, I've planted a pink ribes, a dogwood and redbud surrounded by frais de bois. A native, blue penstemon has volunteered there, and it's very sweet.
I don't try to make it perfect. Wildflowers and native grasses have found their way in. So what? I don't want to have inscribed on my tombstone "She Died Trying to Fight Nature". Another of Gertrude Jekyll's sayings to take to heart: "In garden arrangement . . . one has not only to acquire a knowledge of what to do, but also gain some wisdom in perceiving what it is well to leave alone."
Now when I push open the doors, this is what I see. I think I will leave it alone.