Palace of the Blue Butterfly | Episode 10
Early spring on the ranch has come and gone. This year my Yellow Butterflies magnolia bloomed for the first time since I planted it three years ago, and of course, the tulips, the forsythia, the heavenly daphne rewarded all my hard work. It's a charmed time of year. I can relax on the porch, coffee cup in hand, all the stooping and planting of last fall forgotten.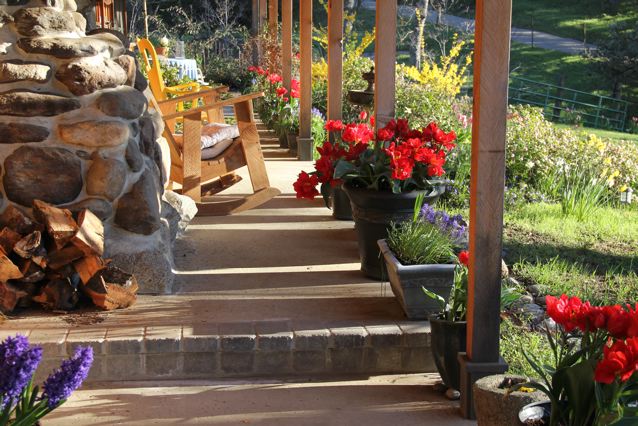 Here's my favorite place, facing the morning sun, looking out for the first orioles, the hills still in shadow, the fountain gurgling. This is where I bring my notebooks to jot down everything from dreams to garden ideas to character biographies for my next books.
These flowers fade, and then the dogwood blooms along with the lilac by the fence, which, every time I pass it, reminds me of when Dave and I lived in New England. For a moment each time I go through the gate, I'm forty years younger.
What have I learned in those years? Wow! A lot! Most important thing? I wouldn't have worried so much when I was younger, I think, if I'd known happiness could be had with a few bulbs, a lilac bush, hard work and a good book.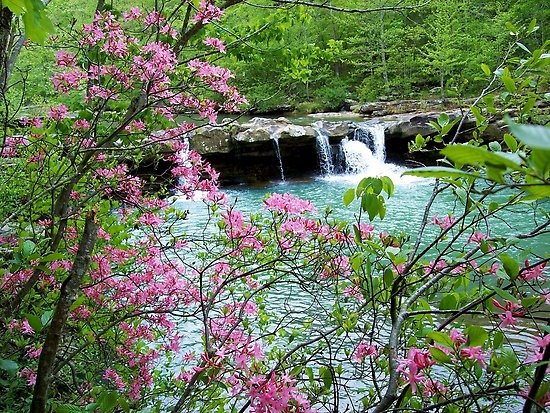 Oh and one more thing . . camping by a river— something like this when the wild azaleas bloom.

Now that the purple Chinese Houses and the yellow Madia are blooming along the roadside, I know it's time to plant the garden. I made this soup with my summer vegetables in mind. It's from Ina Garten—the Barefoot Contessa. You can go to her website , or you can get it here. One word: do cut the carrots into small pieces. Another thing—You can use vegetable broth if it's homemade. Can't stand the canned stuff myself.
Vegetable Soup Provencal
Ingredients:
2TBS good olive oil
2 cups chopped onions
2 cups chopped leeks
3 cups 1/2 inch diced carrots
3 cups 1/2 diced boiling potatoes
1 1/2 TBS kosher salt (less if using canned broth)
1 tsp. fresh ground black pepper
3 quarts chicken stock
1 tsp. saffron threads
1/2 lb. haricot verts, ends removed, cut in half
4 ounces spaghetti, broken in pieces
1 cup Pistou ( recipe follows)
Freshly grated parmesan cheese
Directions: Heat olive oil, add onions and saute over LOW heat for 10 minutes, or until onions are translucent. Add leeks, potatoes, carrots, salt, pepper and saute over medium heat another 5 minutes. Add broth and saffron, bring to a boil and simmer uncovered for 30 minutes, or until vegetables are tender. Add haricots verts and spaghetti, bring to a boil, and cook for 15 more minutes.
While the soup simmers, make the Pistou.
4 large garlic cloves
1/4 cup tomato paste
24 large basil leaves
1/2 cup freshly grated parmesan cheese
1/2 cup good olive oil
Process garlic, tomato paste, basil, cheese in a food processor. With motor running, add oil slowly through the tube to make a paste.
Finish soup:
Before serving, add a 1/4 cup of pistou to the soup and stir.
Serve soup with warm, crusty French bread, extra parmesan and pistou for those who want it. After dinner, relax with a glass of wine and listen to . . .
[wpaudio url="https://www.allaboutjanesranch.com/pods/POBB10.mp3″ text="Episode 10 – click and listen" dl="0″]