. . . provide the suspense.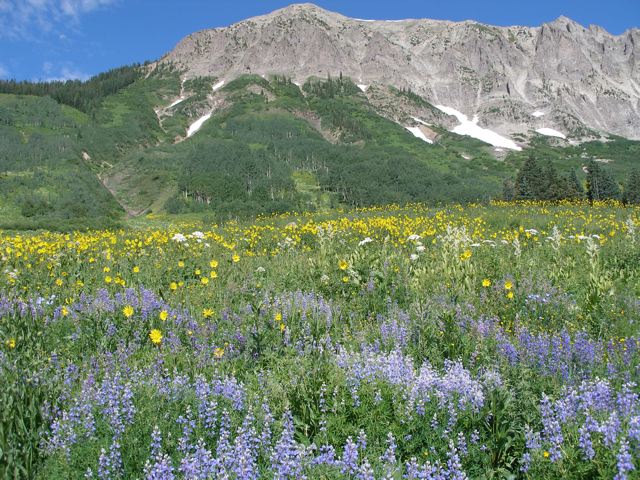 After a lovely day hiking around Crested Butte, Colorado, Dave took me to a charming restaurant called Soupcon, housed in an old miner's cabin off Elk Avenue.
They served a fabulous salad of seared scallops on mache. I came home and promptly duplicated it. Last week I promised you my version, so here it is:
Pan Seared Scallops Drizzled with Warm Tomato Beurre Blanc Served on a Bed of Green Goddess-Dressed Mache with Fried Yukon Gold Potato Toothpicks.
I know it looks like a lot of steps, because, well, it is a lot of steps. None of them are that hard, and you can start on this the day before by making the Green Goddess dressing and the warm tomato beurre blanc. The next day, you'll only have to warm up the tomato beurre blanc, flash-fry the potato toothpicks, toss the mache with the dressing and sear the scallops.
Soupcon served this salad with a chilled rose wine made with Sangiovese grapes only. Ask your wine merchant for it, because this is important. Finally, this is a very rich dish. Chilled melon is a great desert, but that night I served it with Ciao Bella Orange Sorbet in crystal glasses garnished with a sprig of mint and thin chocolate wafers ( yes, the ordinary Nabisco kind you can find in the supermarket) just to be a little fancy and well, romantic. Okay?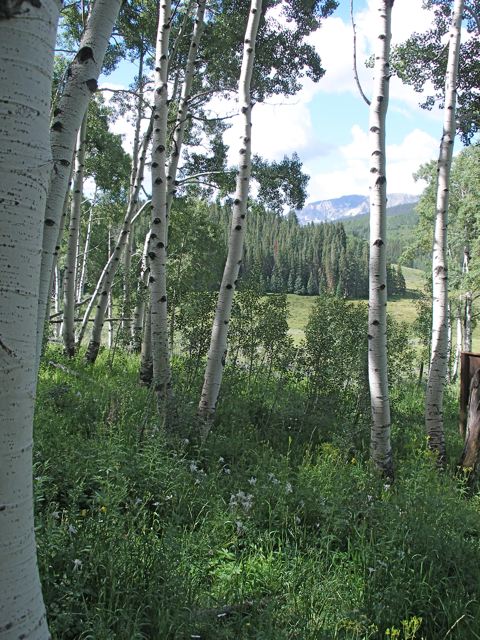 Pan Seared Scallop Salad (my birthday dinner after hiking in the aspens)
Step One: Green Goddess Dressing
Ingredients:
1/2 cup mayonnaise
1/3 cup sour cream
3 TBS minced fresh chives
1TBS minced fresh tarragon
1/4 cup minced fresh parsley
1 anchovy filet minced (DO NOT OMIT EVEN IF YOU HATE ANCHOVIES!)
1 TBS lemon juice
1 TBS red wine vinegar
1/2 tsp kosher salt
1/4 tsp fresh ground black pepper
1/4 tsp Worcestershire sauce
1. Combine all ingredients in a bowl. Cover and refrigerate for at least a half an hour.
Step Two: Warm Tomato Beurre Blanc
Ingredients:
1/4 cup packed soft dried tomatoes (not packed in oil)
1 1/2 sticks (3/4 cups) unsalted butter softened
1/8 tsp salt
1/3 cup minced shallots
2/3 cup dry white wine
3 TBS water
1 tsp fresh lemon juice

1. Soak tomatoes in warm water for a half an hour. Drain, pat dry and mince.
2. Stir together the tomatoes, the softened butter and salt. Form the mixture into a 8-inch log on a sheet of wax paper and chill, wrapped in the paper, until firm, about an hour.
3. When the butter-tomato mixture is chilled, cut it into 12 equal pieces.
4. Cook shallot in one piece of butter (Keep the remaining butter chilled) in a small, heavy saucepan over moderately low heat. stirring until softened, about 3 minutes. Add the wine and boil until the liquid is reduced to about 1/3 cup.
5. Reduce heat to low and whisk in the remaining cold butter, one piece at a time. adding each piece before the last one has completely melted. Do not let the pan get hot enough so that the butter mixture separates. Whisk in the water and lemon juice. Season with salt and pepper.
6. Process butter mixture in a blender until it is smooth.
At this point, you can refrigerate the sauce overnight. When you reheat it, do so over very low heat stirring constantly so the sauce does not separate.
FYI: You can use this sauce unprocessed over grilled salmon and it's great!
Ready to finish the dish?
1. Right before you begin step three, have the amount of mache you intend to use (enough per person to fill the middle part of a dinner plate for each) washed, dried and in a chilled bowl. Have the dressing sitting right next to it with the tongs. Warm the beurre blanc, stirring constantly. Keep warm on a flame tamer on the stove or in a bowl of hot water.
2. Right after you fry the potatoes, be ready to sear the scallops.
Step Three: Flash-Fried Potato Toothpicks
Ingredients:
One Yukon Gold potato
Canola oil
1. Slice potato very thin. You'll need about six slices for two people.
2. Slice these thin slices into very small matchsticks
3. Pour canola oil into a 10 inch frying pan to a depth of about an inch. Heat until a potato matchstick turns golden really quickly.
4. Now you have to work fast. Drop some of the potatoes into the pan and remove with tongs as soon as they are golden but before they get dark!
5. Drain on paper towels.
Just so you know, I asked Dave at the restaurant if I could skip this and he said NO!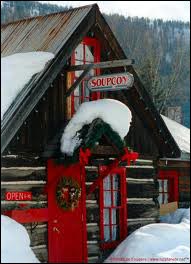 Seared Scallops
1. Allow four large sea scallops per person. Wash and dry scallops. (Really dry them on paper towels!) Sprinkle with salt and pepper.
2. In a 12 inch saute pan, pour enough canola oil to coat the bottom and heat until quite hot but not smoking. Add the scallops and cook for 4 minutes on one side. Turn them with tongs and cook for one more minute. That should do it.
Okey Dokey. You're ready to assemble the dish. This is the part where you look like a complete domestic goddess. Have your husband or (by now your totally impressed) guest or boyfriend open the chilled wine and carry it to your already set table. I didn't need to tell you that probably, but you never know. Tell him to light the candles.
1. Right after you put the scallops in the pan, toss the mache with the smallest amount of dressing you think you'll need. You can always add later. Be sure not to overdo the dressing! Taste and put the dressed mache on dinner plates.
2. Make a little well in the dressed greens and insert a bundle of potato toothpicks as if they were a sheaf of wheat or maybe pickup sticks!
3. The minute the scallops are done, place them on the lettuce around the potato sticks.
4. Drizzle a couple of teaspoonfuls (no more—it's all about balance) of warm beurre blanc on top of the scallops.
5. Voila! Now you just shrug and say "Oh this? It was nothing."
Now when I go back to Crested Butte to cross country ski, I'll see what kind of inspiration I can find at Soupcon for a romantic winter dinner!