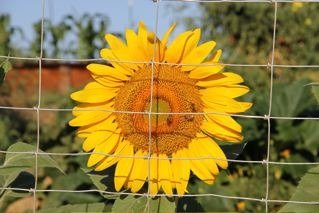 As soon as we got home from Santa Fe, I ran up to the garden to see what would greet me when I pushed open the gate. Tomatoes! Eggplants! Melons! Peppers! We will be feasting for days.
My basket was overflowing, and I had to use my gardening hat to gather up some Blue Lake beans for supper. I simply steamed the green beans and tossed them with some Tuscan olive oil and a little sea salt.
But what was I to do with all these luscious eggplants and tomatoes?
First, I plunged the tomatoes into boiling water for about twenty seconds and then peeled them. At this point, I could have canned them (remember: always use a reliable canning guide every time you can or make preserves!), but I decided to make a simple tomato sauce instead. I poured two or three tablespoons of olive oil into a Dutch oven, added the tomatoes, and let them simmer for about an hour and a half. After they cooled a bit, I ran them through a food mill to get rid of the seeds.
Later that evening, I diced an onion and a couple of garlic cloves and sauteed them in olive oil. After they'd softened a bit, I added the tomato passato, as it's called in Italy. I threw in a small pinch of red pepper flakes, some salt and fresh ground black pepper, and simmered the sauce until… well, until it was the thickness I desired. I added some basil chiffonade at the last minute. Didn't want to lose any of its wonderful flavor or scent. If a Sophia Loren movie had an aroma, my kitchen would have smelled like it!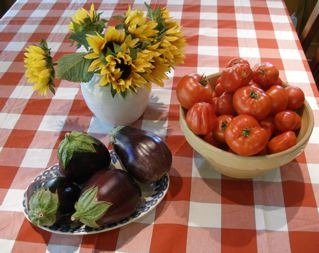 I tossed the sauce with some high quality dried pasta from Italy—no cheese on this. The fresh taste of the tomatoes and basil was too delicious to mask. Dave and I carried our bowls of steaming pasta out to the patio table where we lingered way past dark, looking for shooting stars.
The next night, I made a splendid eggplant parmesan. Yes, I DID dredge the eggplant slices in flour, egg and breadcrumbs before I deep fried them. (Sorry Dr. Oz) All the dish took after that was a thin layer of last night's tomato sauce, some mozzerella, some reggiano parmesan, and fifteen minutes in a 350 degree oven. A glass of Barbera and some more shooting stars didn't hurt.
Tonight, I'm turning to a now out-of-print cookbook called A Mediterranean Harvest by Paola Scaravelli for a wonderful vegetarian version of Moussaka. It will remind me of the months Dave and I lived in a whitewashed farmhouse on a Greek Island.
But really, I don't know what's gotten into me with all this complicated cooking. Maybe, in spite of the heat, I sense the beginning of fall. I was out in the pasture the other day—all ochre-colored and anise-scented with tarweed flowers— when I heard a great whooshing sound of wings. A flock of Canada geese was flying south. It seemed like a warning. This abundance won't last and I'm making the most of it.