Before I left for Puerto Vallarta, where I knew I would be lying on a lounge chair, staring up at the palm trees, watching whales leap in the Bay of Banderas, drinking daiquiris and reading for total escape, I checked one of my favorite on-line book reviewers — January Magazine. No, I have no idea why they call it January Magazine, but they do. Whether I want literature, non-fiction, or just plain fun, their reviews never lead me astray. This time was no exception.
I'm pretty picky when it comes to my guilty reading pleasures. The author has to have a strong voice and sense of place, AND the plot has to be way more complicated than boy meets girl followed by 500 boring pages of misunderstandings all relayed through heavy-handed dialogue before they finally hook up.
Oy vey as we say up on the Ranch.
Well, a couple of writers — and Kelli Stanley was one — really helped make my vacation. Well, they, my iPad and Amazon one-click-shopping. (And yes, Amazon should pay state taxes. Talk about guilt. I feel bad every time I use them, but that's another story.)
I was always one of those people who swore I'd never read a book off a screen. Folks, never say never. E-readers are the greatest things for traveling.
Once I'd made my choices for vacation reading, I clicked on Amazon. A split second later, one of the book covers about the size of a Scrabble tile appeared. Next to it, a bar started filling up with a blue line…10%, then 40% and so on.
I had to admit, as I watched the contents of the book being sucked up through what looked like a tiny straw, I felt a little like an addict who'd just rolled up a dollar bill and was snorting fiction through it like white powder — well, in this case $9.99 worth of dollar bills. (The e-books really should be a little cheaper, but if I want Amazon to pay state taxes, I guess I'll have to spend even more. On the other hand, a clean conscience is worth a lot!)
Once at our time-share in Vallarta, I staked out my lounge chair, clicked on the iPad, and started in with Kelli Stanley's City of Dragons.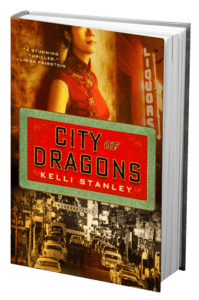 Set in San Francisco in the late Thirties, City of Dragons PI Miranda Corbie witnesses the murder of a young Japanese man in Chinatown during the Rice Bowl Festival. The police want to shove the murder under the rug, but Miranda — for reasons of her own — pursues the case. You can practically feel the cold fog rolling in under the Golden Gate Bridge in this novel, hear the mournful fog horns, and feel yourself being jostled by the crowds in Chinatown with the strange sounds of Mandarin and Cantonese all around you. Miranda is a tough-talking broad, chain-smoking and bourbon-drinking. She gives Sam Spade a run for his money.
City of Dragons carried me back to a time in my life in the early Seventies when I lived on the top floor of a Basque Hotel in North Beach. The cable car clanged under my windows, and I had a view of the San Francisco Bay.
The rooms on that floor were all filled with women who wanted TO WRITE; typewriters clicked contstantly behind closed doors. Well, there were two strippers from a couple of the Broadway clubs who lived in two of the rooms, but that was all part of the atmosphere. On the floor below us lived the Basque sheepherders, and on the floor below that was Elu's Basque restaurant. Anyone remember the Hotel du Midi?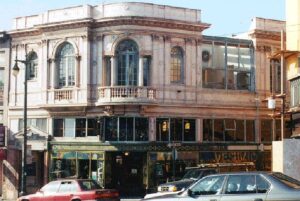 Kelli Stanley's San Francisco reminded me of all the foggy nights I spent drinking Irish coffees at Vesuvio with friends after browsing the shelves on the lower floor of City Lights Bookstore. It reminded me of standing in the alley listening to Miles Davis when he played at Keystone Korner, reminded me of dinners with friends at the US Restaurant where the waitress punched your monthly meal ticket with a hole puncher after she gave you the daily special and a glass of wine, reminded me how different San Francisco was back then from any other place in the country. Maybe the world.
I'll tell you about my other guilty reading pleasure next time. It was totally different and just as much fun.
How's my own writing project going? Well, Dave and I spent all day Valentine's Day trying to figure out how to compress my files into Mp3s in iTunes and get them up on Libsyn. I'm almost there, but not quite. I don't know whether to put the files in Libsyn's drop box or some other place. Do any of you? By the end of the day, we were pretty much ready for a couple of Old-Fashioneds (EACH!) Still, it was romantic of Dave to offer to help. Some girls want flowers; I want to figure out how to store my files on Libsyn. Each to her own.
Going from an image in my head, to pages in a box, to words on garage band, and then into iTunes, Libsyn and out to you using Podpress or Blubrry isn't easy.
But I'm getting there. I'm getting the hang of it. Really. I swear.