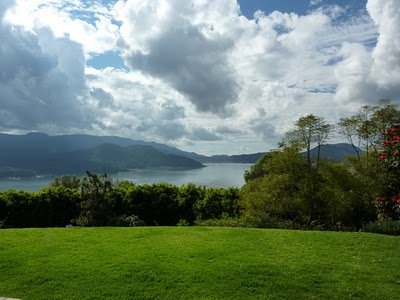 En Fin! Finally.
Amazing what I can do with a little free time. Now all I have to do is get this novel formatted for Amazon, and all those who "Have Kindle Will Travel" can download it and be good to go.
I'm not giving anything away if I tell you that Lili takes a side trip to Valle de Bravo, a charming hillside town built around Lake Avandaro just a couple of hours outside of Mexico City.
Of course, you'll just have to read the book and find out why she goes there and what she finds out when she does, but I thought I'd show you some pretty pictures I pulled from Travel and Leisure just to whet your appetite.
And if you do get that far in my novel, you'll know why I chose the picture on the left instead of others available to me.
In the chapter I'm talking about, we will follow Lili as she walks by the lake, heads up to the plaza and wanders the streets looking for a certain address.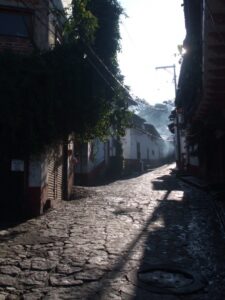 This picture on the right gives you a feel for her journey.
It will be hard to read a romantic suspense novel like Palace of the Blue Butterfly if the only images you have in your mind of Mexico are vast deserts, dusty run-down villages, narco-kingpins and a population completely obsessed and overwhelmed by poverty and drugs. We may want to look in the mirror a moment about the poverty and drugs thing, but that's a political issue and for someone else's blog, not mine.
I'll be posting excerpts from the talk I gave on Mexico City from time to time just to dispel some of the antiquated ideas we have of Mexico.
You might be interested to know that Martha Stewart went to Mexico City last summer and had a fabulous time. You can go to her website and see a little You Tube video of her visit, watch her floating in a gaily colored boat at Zochimilco, riding bicycles in Chapultepec Park with Mayor Ebrard, dining at Dulce y Patria, an upscale restaurant in the Polanco neighborhood.
Of course it's upscale. It's Martha
She also shopped for rebozos (shawls) at Maggie Galton's shop in the Polanco. Maggie Galton is a wonderful purveyor of the finest textiles. I mean, why else would Martha shop there?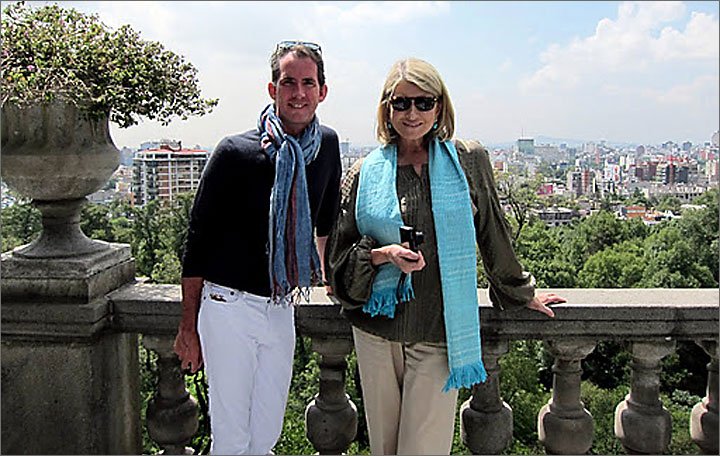 Tags : Martha Stewart, Martha Stewart at Chapultepec Castle, Martha Stewart at Dulce y Patria, Martha Stewart in Mexico, Romantic Suspense, Romantic Suspense Novel, Valle de Bravo | Comments Off

on Palace of the Blue Butterfly: All Chapters are Posted!