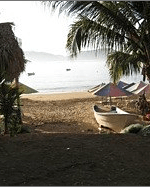 Finally! After all the proofreading and all the formatting and all the figuring out how to get Palace of the Blue Butterfly on Amazon Books and Goodreads, I'm starting to revise my second romantic suspense novel Bird of Paradise.
This is sort of what I look like these days -- only no fishbowl, no fish, no green branches, just me staring out into space. Any normal person would wonder what I'm doing. Well just FYI: Yesterday, my imagination took me to a beach on Mexico's Pacific coast. I felt the sand on the soles of my feet, the wind in my hair, heard the waves, the shells being pulled out to sea, and in this trance, characters emerged from nowhere, for example, the French guy -- Francois Richter. Where did he come from? He wasn't in my first draft. But Bee, my main character, opened the door of the van, and there he was in . . .
Tags : Amazon Books, Barra de Navidad, Bay of Melaque, Costa CAreyes, Costa de Careyes, Goodreads, Mexico, Playa Rosa, Romantic Suspense, Romantic Suspense Novels, West coast of Mexico | Comments Off

on Bird of Paradise: Romantic Suspense Novel Set on the . . .