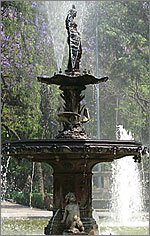 The street at the time the Casa de Azulejos was built was called Calle Plateada because of all the silversmiths and silver merchants on the street. Later during the late 19th century the building was the location of the most exclusive men's club in the capital—the Jockey Club. If Mexican television ever made its own version of Dawnton Abbey, scenes would have to be shot here. We'll also look at a famous Orozco mural in the patio dining area.
We'll leave the Casa de Azulejos, now owed by the fourth richest man in the world — Carlos Slim of TelMex. How he became so wealthy could be the subject of yet another novel, this time by Carlos Fuentes or even Roberto Bolano. We'll wander through Alameda Park to the Franz Meyer Museum to look at the household furnishings and get a sense of the lifestyle of the rich and famous in 17th 18th century Mexico.
A bit about Franz Meyer and his collection. Franz . . .
Tags : | Comments Off

on Alameda Park, Casa de Azulejos